Honduras Missions Team Extends a Welcome to Participate
Dennis Erickson – Eyes to See Advocacy
With employment history in construction, an opportunity to use acquired knowledge and benefit others has influenced Dennis Erickson in ways he didn't expect. He shares in the group's belief that people should consider missions with an open mind because the value surfaces in returning back home and realizing service impacts the people far beyond the trip. Erickson witnessed a Hispanic employee give two-weeks-notice with a construction operation in Sioux Falls, only to not receive his pay following those two weeks. When Erickson heard about this wrong, he did his best to get involved and be a part of resolving the discrepancy. In being part of movement of justice abroad, it emboldened him to foster justice within US borders as well.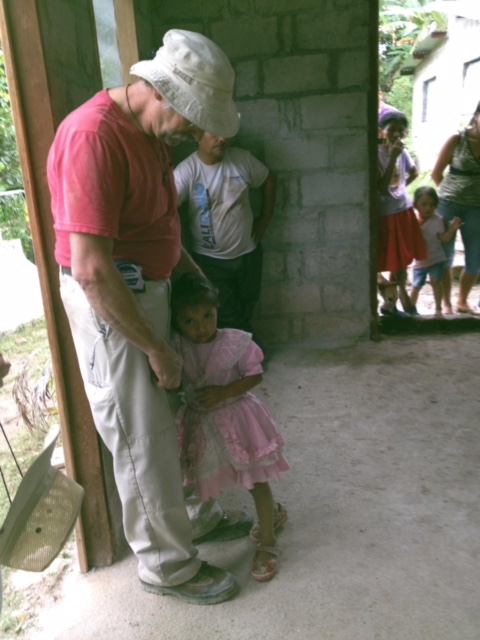 Dear Lord,
Every day for the past week I've wanted
To bring laundry soap or canned goods,
Now the teacher's reminded me,
And I'll take them tomorrow
Who's forgotten?
Faith is hidden?
Isn't prayerful?
Jesus says,
Quickly justice comes,
Hearing cries and pleas,
Remember belief
Dear Lord,
Some give up before anything changes
But there's another day
For what good will do
Luke 18:7-8 And will not God bring about justice for his chosen ones, who cry out to him day and night? Will he keep putting them off? I tell you, he will see that they get justice, and quickly. However, when the Son of Man comes, will he find faith on earth?
Poem by Jennifer Noble
Jennifer Noble graduated with a Corporate Communications major and has written locally for "Etc. for Her" as well as Sioux Falls charities such as the Ronald McDonald House. In addition, two of her stories are published in compilations, "I'm Glad I'm a Mom" (Harvest House) and "God Still Meets Needs" (CreateSpace). She is the Communications Manager at First Presbyterian Church.
The Model Becomes an Example of the Blessing
By Jennifer Noble
Last year 12 members of FPC planned to travel to Honduras for a mission trip, but the trip never occurred due to unrest in the country at the time. Although disappointing, the passion for missions at FPC remains palpable. This passion grows with each additional trip and time spent serving our Honduran brothers and sisters together. The opportunity to begin working in Honduras took shape almost 10 years ago, with nearly annual trips occurring ever since. A 2019 trip is scheduled for 18-27 January, when FPC's Sioux Falls natives will encounter cooler temperatures in the 70s, a welcome respite from the harsh South Dakota winter. The following cameos from four FPC Honduras Vision Team members tell of the blessings they have enjoyed through their service.
Dan Sweatman – Eyes to See Divine Supply
The ministry of presence is more than "going and doing for," it is "going and being with." Average Hondurans can become homeowners with the help of FPC's mission team—something most of them would never have dreamed of. Dan is thrilled at how Hondurans assisted by a FPC mission team have assimilated into the community and become more likely to attend civic meetings, where they feel comfortable voicing their thoughts. Their confidence has grown as they participated with our mission teams, working together to build their homes. Groups of five or six future homeowners work together on the home building projects and no one moves in until all their new homes are completed.
Sweatman had an experience while traveling where he overheard a man trying to converse with a flight attendant in Spanish, who kept replying in English. This was not a flight connected to the Honduras trips. He listened for a while as they struggled to communicate. Finally, he decided to use his best in Spanish to speak with this man. Imagine Sweatman's amazement when the man handed him a business card from "The Way. First Presbyterian Church." Here was a church-based group meeting inside of Sweatman's church building, where the man's daughter was engaged in a church plant. He also learned that the man's family was originally from Honduras and that they worked to send clothing to some church contacts in Honduras each year.
Earl Kemp – Eyes to See Sacrifice
Students studying medicine in the United States often travel to Honduras to gain experience and treat a variety of patient needs. While on a Honduras mission trip, Dr. Earl Kemp observed one such medical student. She had worked with some patients that the FPC mission team knew. The medical student became aware of the work the FPC team had been doing in a nearby region. Dr. Kemp noted that she was truly compassionate and wanted to support efforts beyond the medical field. She displayed a strong desire to learn and encourage people in other geographical areas and professional fields. Dr. Kemp commented that seeing poverty up close raises one's awareness of the over-abundance that characterizes the American lifestyle and can be disheartening, making one desirous of performing personal acts of sacrifice and mercy.
Carrie Kemp-Draeger – Eyes to See Development
When Carrie Kemp-Draeger observed Honduran children helping construct their concrete and brick homes, she was inspired. She started calling a few of them "Boss" as an indication of how they had blessed her. During multiple mission trips to Honduras she has relished the opportunity to establish friendships. Honduras has earned a place in the hearts of her family members as well. Carrie's daughter Jill shared a presentation on Honduras with her class as a first-grader and hopes to participate in a future mission trip. The song "Pave" by Britt Nicole expresses the artist's passion for a mission in Brazil and reflects a similar sense of mission enthusiasm shared by Carrie.
"Pave"
I love when it's raining
The way it hits the pavement
And bounces onto your skin
Yeah I just wanna be it
Say you wanna get outta here
Somewhere where the skies are clear
I know just the place to go
If we never make it there
I don't care if you don't care
I just gotta let you know
If you wanna jump from the top of the waterfall
Climb up the mountain
Just to hear the call
Swinging through the jungle
Running for tomorrow
Anywhere you wanna go
I can pave the road…
For you, For you, For you
So pack your bags, we're leaving
(Let's go)
Close your eyes and breathe in
Tell me, can you see it? (I can see it now)
The place that we've been dreaming of
—Britt Nicole